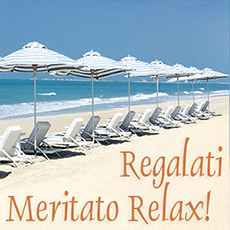 Here's to you our new idea to spend your holidays on the Rimini beach in 2016 that you will not forget easily.

Discover our Special Summer Offer: choose Hotel Luxor as hotel to the sea in Romagna and you will have all the fun and happiness of summer events and amusement parks in the area, and specially the comfort and elegance of the services of our hotel 4 stars in Viale Tripoli, in Rimini.

"A week All Inclusive to the beach in Rimini", beginning to JUNE! This is the Summer package last minute 2016 and will allow you to enjoy intense days at sea, just 100meters from the beach in your room.
Summer package B&b treatment + beach FROM 10/8 TO 13/8:
B&B accommodation
Special Breakfast Buffet
Beach Service: 1 umbrella, 2 Sunbeds, use beach towels and beach cabin
Free use of bicycles
Free parking with video surveillance and subject to availability
Wi Fi unlimited free throughout your stay
Summer Package 3 nights € 360,00 in double room IDEAL type
Summer Fun in Rimini
Under the Sun of the summer Riviera Romagnola, holidays for those who choose our package to the sea in Rimini will pass without thoughts among the many activities that entertained until sunset.

Here's what to see and do in Rimini with their feet in the sand:
At the beach, enjoy participating in one of the sports competitions of beach volley, tennis or soccer that are organized under the sun. They are an excellent opportunity to have fun and meet some new friends. If you prefer something more relaxing, enjoy a swim, a stroll on the shore or try the nordic walking experience between the sand.
In the frame of Riviera sports, you can spend your holidays with entertainment for an event that will not move from the beach. Here, among the sand - from the most common to more details - you can watch and enjoy games of football or dodgeball. The most important events of this summer on the Beach Festival will be held from 2nd to 4th August.
On the promenade, only 1,5 km from the Hotel Luxor, offers the spectacle of the sea in the most elegant, cute and clever between all the fish. To get to the pool where dolphins are hosted, you will find occasion to browse between 600 fish of the Mediterranean Sea and exhibitions dedicated to the underwater world. Arriving at the pool show, the beauty of these animals with their performances with the trainers, are what most strikes visitors.